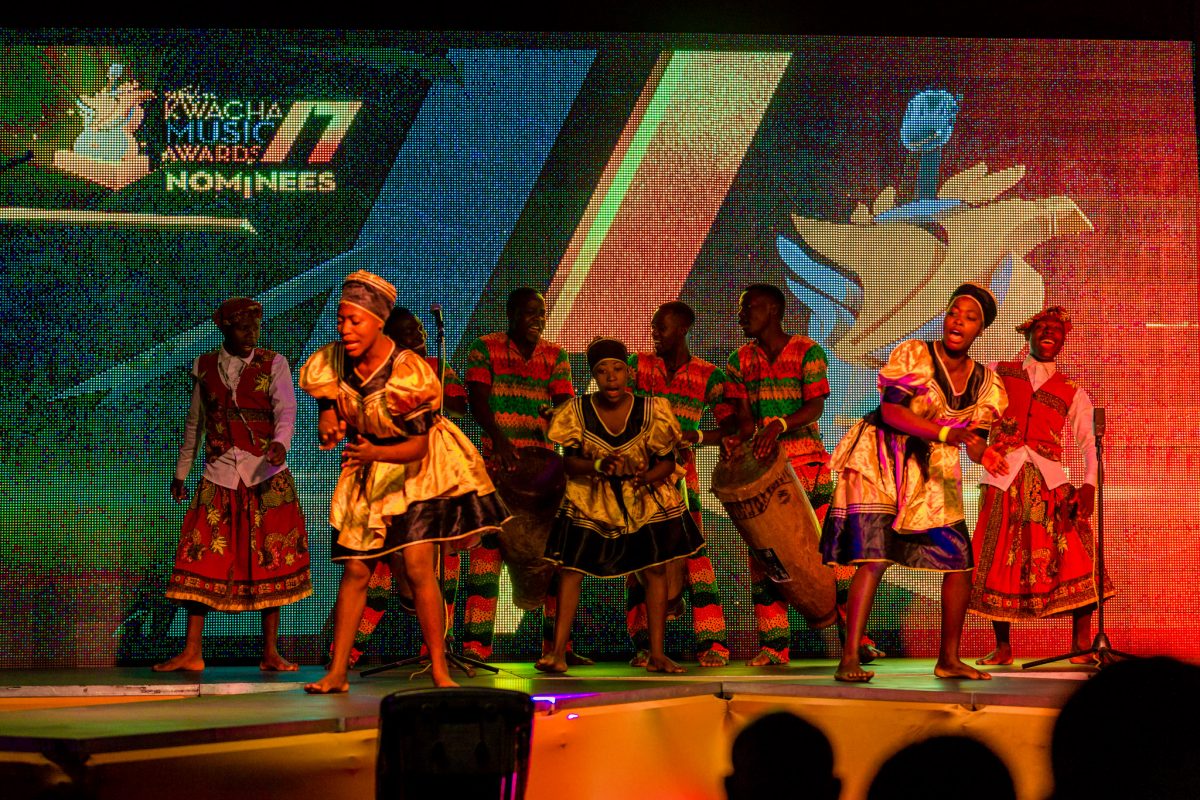 After a 3 year hiatus attributed to the covid-19 outbreak, one of Zambia's top awards show – the Kwacha Music Awards returns this year with the 2022 edition.
Kwacha Music Awards are a creation of Sun FM Radio and a committee comprising of music Industry players and individuals drawn from various sectors of society, which were conceived at the backdrop of a vacuum identified in the Music industry for Annual Music Awards with a national character, that would involve the main players in the industry and pay tribute to today's most celebrated and iconic artists.
The Kwacha Music Awards nominees are drawn from fan interactions as reflected on radio airplay countrywide. The measurements are tracked by the Awards Committee and partner radio stations and passed on to an independent panel of qualified adjudicators drawn from various Institutions, Associations and bodies involved in Music or Arts alike for verification.
The Kwacha Music Awards are determined by a Poll of the public and fans via established channels that includes SMS and Website, and verified by an auditing firm for transparency.
The last edition of the Kwacha Music Awards was in the year 2019. The show returns this year and will be held on the 1st of October at it's usual venue, the Mulungushi International Conference Center.
Without further ado, here are the nominees!
BEST ARTIST – CENTRAL PROVINCE – (CEP)
D2
Drimz
Jemax
Sha-Dreck
Tripo Cezo
BEST ARTIST – COPPERBELT PROVINCE – (COP)
4 na 5
Chanda Na Kay
Chile One
Chilu
Sky Dollar
Xaven
Y Celeb
BEST ARTIST – EASTERN PROVINCE – (EAP)
Ambuya
Chimzy Kelly
Faluja
KD
Theresa
BEST ARTIST – LUAPULA PROVINCE – (LPP)
Born Bugar
Crysmun Chola
Jay Nazo
Kasa Buchi
Knack Unity
BEST ARTIST – LUSAKA PROVINCE (LSP)
Bobby East
Bombshell
Dizmo
Jae Cash
Nez Long
Rich Bizzy
Steve G
BEST ARTIST – MUCHINGA PROVINCE (MUP)
Eknox
Emmy 3
Fishay
Happy K
Mr. Zed Official
BEST ARTIST – NORTH WESTERN PROVINCE (NWP)
Denny Gee
JM Blue Spac
Junior Sabala
Kasonde
Kell Cee
BEST ARTIST – NORTHERN PROVINCE (NTP)
Andyzo
Fumfu Obiyol
Kiss B
Muzo
Newman
BEST ARTIST – SOUTHERN PROVINCE (SNP)
Allan Mapiki
King Illest
Mpande
Sky Empire
Slim the Hit Maker
BEST ARTIST – WESTERN PROVINCE – (WNP)
Kassy Nalu
Kuzza
MoMo Diva
Onelly
Y-Coasty
BEST NEW COMER (MALE) – (NCM)
4 na 5
Aqualaskin
Chile One
Jorzi
Sky Dollar
Umusepela Chile
BEST NEW COMER (FEMALE) – (NCF)
Deborah
Flerine Dah Queen
Kanina Kandalama
Natasha Chansa
Towela
Xaven
HUMANITARIAN – (HUM)
Abel Chungu
B-Flow
Michael Zulu
Petersen
Pilato
Pompi
Wezi
INTERNATIONAL ACHIEVEMENT – (INA)
Cleo Ice Queen
Esther Chungu
Jay Rox
Macky 2
Roberto
Sampa The Great
BEST SOUND PRODUCTION – (BSP)
Big Bizzy
Eazy the Producer
High Grade (TSean)
Jazzy Boy
Magg 44
Miles Came Along
Mr. Starsh
Mzenga Man
BEST FOLK/ INDIGENOUS SOUND – (BIS)
Amigo – Moses Sakala
Chimo Naba Zambia – Chester
Chinanda – James Sakala
Muchimunzi Ni Ziii – Organised Family
Nalekunfwafye – Chilu
Pa Zambia – Angela Nyirenda
BEST AFRO FUSION/ R&B SONG – (RBS)
Fweba Ku Chaume – Chile One
If Love was a Person – Neo
Imperfect – Abel Chungu
Mr Romantic – Yo Maps
My Baby – Roberto
Nalema – Towela
Ordinary Lover – KB
BEST HIP HOP/ RAP SONG – (HHS)
2 by 2 – Macky 2
Black Jesus – Umusepela Chile
Husband Material – Chef 187
Ma Sneaker Nama Chain – Dizmo
Mr. Mando – Magg 44
My Life a Movie – Jay Cash
Never Forget – Sampa the Great
BEST DANCEHALL/ REGGAE SONG – (DHS)
Bad Gal Loving – Bombshell
Big Booty – Davaos ft Zani Challe
Bubble – T-Sean
Chilailai – Mampi ft Frank Ro
Sukuma – DJ Cosmo
Yanka – Jay Rox
BEST MAINSTREAM /POP – (MSS)
Bulongo – Chanda na Kay
Fwebaku Chaume – Chile One L
ocation – Yo Maps
Manana – Towela
Tidwale – Aqualaskin
Tomboka – Slap D
Lesa Alimpala – Y Celeb
BEST GOSPEL SONG (MALE) -(GSM)
Ameno – Enock Mbewe
Filembulule – DMK
Kontolola – Pompi ft Magg 44
Mwasala Ine – Stevie G
Nalekumfwafye – Chilu
Twapalwafye – Kings
BEST GOSPEL SONG (FEMALE) – (GSF)
Healing – Esther Chungu
Ilange Yesu – Christine
Katebebe – Kwanda
Nkasumbula – Deborah Mambo
Temwani – Adonai
Waiting – Chileshe Bwalya
MOST CONSCIOUS SONG – (MCS)
Amama – Mampi
Imperfect – Abel Chungu
Moyo – Wezi
Never Forget – Sampa The Great
Take All Of Me – Chanda Na Kay
TGDY – Macky 2
Ubuntu – Chileshe Bwalya, Christine, Ephraim, Mixtizo & Abel Chungu
BEST COLLABORATION – (BCO)
Beautiful – Macky 2 ft AKA
Input – Nez Long ft Slap D, Bobby East & Y Celeb
Kommando – Yo Maps ft Slap D
Lit Manana – Towela ft Jemax
Never Forget – Sampa The Great, Chef 187, Tio
Take All Of Me – Chanda Na Kay Ft Able Chungu
Tidwale Remix – Aqualaskin ft Chanda Na Kay
BEST DUO/ GROUP – (BDG)
4 na 5
Chanda Na Kay
Davaos
Dope Boys
HD Empire
Peace Preachers
Urban Hype
BEST BAND – (BBD)
Air Power Band
Amayenge
Barotse Band
Elect Band
More Fire Band
Uncle Rex
BEST CHOIR – (BCH)
Busokololo UCZ
Chililabombwe UCZ
Defence & Security
Faithful Melody
Mt. Sinai
One Praise
GOSPEL ALBUM OF THE YEAR – (GOY)
20Yrs of Ephraim – Ephraim
Bwana – Pompi & Magg 44
Mr Mando – Magg 44
Nalekumfwafye – Chilu
Senda Ubukata – Pst. Gift Kaputula
Take Me To The Place – Ausward
BEST MALE ARTIST – (BMA)
Chef 187 Jay Rox Macky 2 Pompi Roberto Slap D Yo Maps
BEST FEMALE ARTIST – (BFM)
Bombshell
Cleo Ice Queen
Esther Chungu
Mampi
Sampa The Great
Towela Kaira
Xaven
SONG OF THE YEAR – (SOY)
Beautiful Night – Macky 2
Bulongo – Chanda Na Kay
Fweba Ku Chaume – Chile One
Husband Material – Chef 187
Mr. Romantic – Yo Maps
Take All Of Me – Chanda Na Kay
Tidwale – Aqualaskin
ALBUM OF THE YEAR – (AOY)
Chilu – Nalekunfwafye
Enigma – Jay Rox
Ghetto To Mayadi – Dizmo
Kommando – Yo Maps
Mfumu Kadzi – Bombshell
Mother Tongue – Slap D
Olijaba – Macky 2