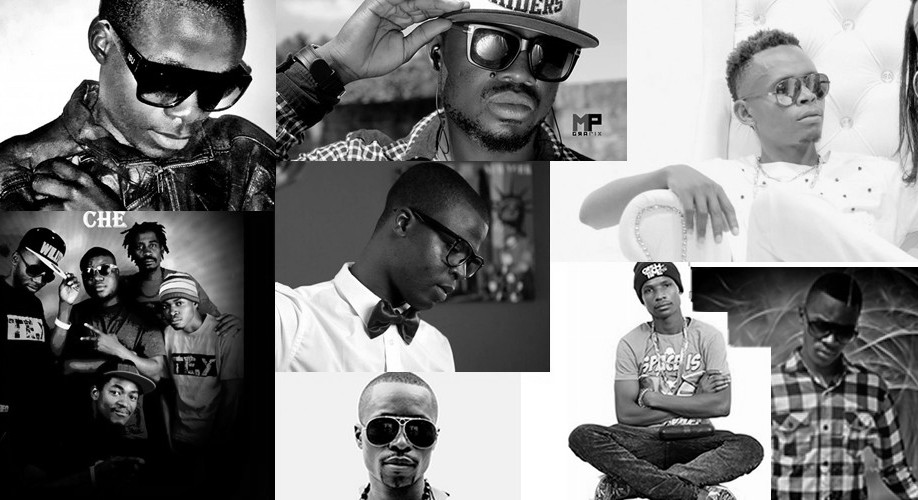 ---
We look at the Top 10 Rising Artists we've promoted who are likely to break through this year. In No particular order, these are talented artists who worked hard over the last few months and are tipped to succeed this year.
J Slick
Not many rising artists make hits without having a renowned artist feature on the song these days but J Slick has managed that so far. In 2015 He released songs like  "Nyelele" which was produced by K Dash Mr. 1000, I wish, and he closed the year 2015 with "Ichikope". He also worked on another hit titled "Addictive" with the Talented Za Yellow Man. J Slick's type of music can be related to that of the Zed's most featured Chorus King P'Jay (MHSRIP). We hope to see and hear more of J Slick this year.
TE.Y
TE.Y is a Lusaka based upcoming Youth Music group. TE.Y Stands for 'The Energetic Youths' and in 2015 they proved just how much energy they have in terms of Music. Last September they blessed us with "Umusavula" which K-Amy signed Rapper Alpha Romeo features on. They went on to release songs like "Ili Well" and closed the year with 2 songs produced by Quincy Wizzy titled "Larzalo" and "Bamakambakamba Che". TE.Y's type of music is unique in such a way that its both Educating and Entertaining.
Knistar
Knistar is a singer from one of the biggest Music territories Zambia – Copperbelt. The singers creativity and talent has been Exhibited on his 2015 singles like "Ilomba Lyandi", "Umema" and he jumped on Slayz Midose's Emergency single where he shines on the Chorus. Knistar is tipped to be one of the few Zambian singers that can turn ideas into hot hooks on songs.
Junior K-lil
Fresh Boy Junior K-lil known for his major  2015 Collaborations with Stars like Tonny Breezy, Chef 187, Baska Baska and the Legendary Bashi Malama is also one of the artists tipped to shine in 2016. The Rapper released hits like Say Yeah which has Tonny Breezy on the Chorus, Pamulandufye Wachupo Featuring Bashi Malama a song that even the elderly can jam to. He later closed the year with YOLO which he worked with Kopala Swag Rapper Chef 187 and singer/producer Baska Baska. If You don't know him yet, you will by the end of 2016.
Rexious
Rexious dropped hit after hit in 2015 and received massive airplay. Most of you may know him by his smashing Dancehall love song "BP" which features Za Yellow Man and Black Snow. The song was produced by Hitmaker Silentt Erazer and has an amazing video Shot by NXT Solutionz. Rexious further Released hits like Bonzo Featuring 2015 Breakout Artist Drifta Trek and Tyce Zigi. He Closed the year with a Christmas release "Ndi Chipuba" Featuring B1 Mr. Perfecto. All these Hits where produced by Silentt Erazer. You definitely should look out for more of Rexious this year.
Mviwa Che
Mviwa Che is one of the hot young rappers that showed up on the Zambian Music scene in 2015. Th rapper proved his creativity on hits like "Mbundali Castle", "Osadandaula" and "Hip Hop Yapa Zambia" then he later closed 2015 with a Danceable Hit single "Lesa Somone" featuring Hook Killer Allanzo! We can only hope this young Talent was just warming up in 2015 and will give us more hits this year!
Timothy
The Afro Pop RnB singer has recently been slowly making Wave with his sensational hits like "Chikondi", "Sinifuna" and Fly Away. Timothy's Hardwork is evident because he hasn't only been working on amazing Songs but on Amazing videos too. Timothy has worked with Production Houses like Big Deal Graphix HD, Ikonik Music and Zero DB. Timothy is tipped to break through this year.
LB The Lords Boy
With Lota House being the most dominant Empire in terms of producing Gospel Rap in Zambia over the last few years, coming from a secular dominated part of Zambia hasn't stopped LB from making Gospel Rap hits. In 2015, his most noticeable songs were "Twamisumbula" and "I believe in Miracles" both produced by Ultimate Vibes Music's own T-Rux. We hope that in 2016 LB touches more lives with music which he labels "The Holy Spirit inspired life-giving music".
Ice Kid Lowkey
Ikonik Music 2015 signee Ice Kid has been one of the most consistent rising stars over the last 2years. Probably one of the next most noticeable names in Zambian Dancehall. Ice Kid has recently been dropping bomb after bomb. From Bob Marley to Monica (Ft. Chef 187) its safe to say Ice Kid had a good year and hopefully he will drop more bombs this year.
Kefas
Last but not the least, like any other name on this list Kefas was one of the most creative Upcoming artists in 2015 with 2 dancehall hits Love Barter System and Bamuleta. With B Flow recently switching to Kalindula Music, its the likes of Kefas that one would hope can at least try to fit in B Flow's Vacant Dancehall Shoes.
We could go on and on mentioning Artists who may breakout this year but the list would then be endless. 2016 is going to be an exciting year for Zambian Music.
---
Don't Be Selfish… Share.