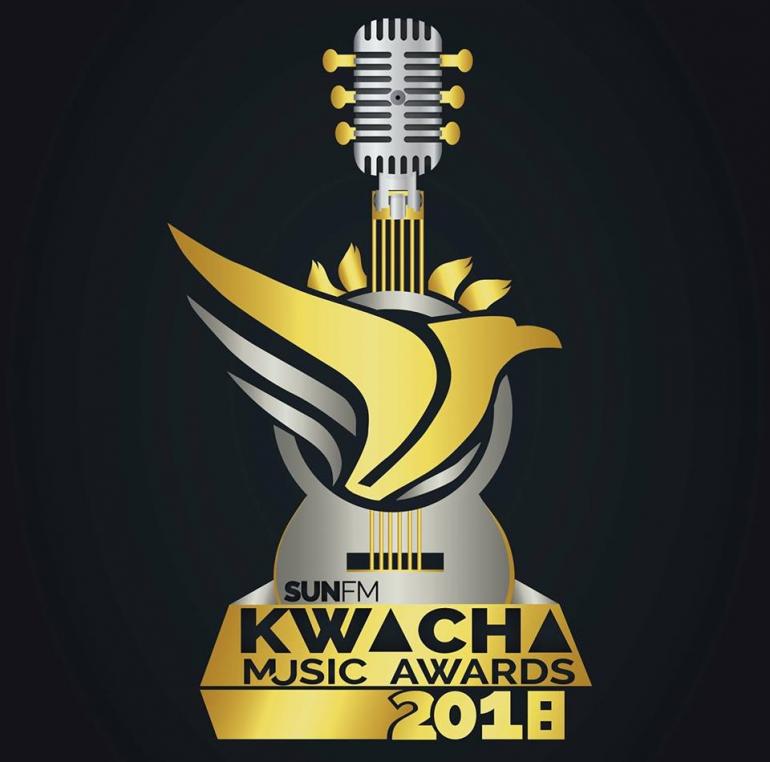 The 2nd annual Kwacha Music Awards has finally come to pass… The award Ceremony that was held at Mulungushi International Conference Center in Lusaka on the 29th of September 2018 saw XYZ Entertainment emerge as the biggest winners of the night winning a maximum of 7 categories.
The ceremony was backed by performances from Pompi, Macky 2, Ephraim, Njamba, Willz, Bobby East, Nez Long, James Sakala, T-Low, James Chamanyazi, Shatel and more.
Here is a complete list of winners.
SPECIAL RECOGNITION AWARD – Mrs. Inonge Mutukwa Wina
LIFETIME ACHIEVEMENT AWARD – Jordan Katembula – JK
—–
BEST ARTIST – CENTRAL PROVINCE – (CEP)
D2
Drimz (WINNER)
Jemax
Martha
Yo Maps
BEST SOUND PRODUCTION – (BSP)
Ben Blazer
KB K Army
Kekero
Mr. Stash (WINNER)
Shinko Beats
T-Sean
BEST ARTIST – COPPERBELT PROVINCE – (COP)
Afunika (WINNER)
Mwila Mawila Mulenga
Nathan Samona
Shenky
T-low
Vally Vally
HUMANITARIAN – (HUM)
Able Chungu (WINNER)
B'Flow
John Chiti
Petersen
Wezi
BEST ARTIST – EASTERN PROVINCE – (EAP)
Amarue
Chimzy Kelly (WINNER)
Faluja
KD – Kadansa
INTERNATIONAL ACHIEVEMENT – (INA)
B'Flow (WINNER)
Pompi
Roberto
Salma Sky
Slap D
BEST ARTIST – LUAPULA PROVINCE – (LPP)
Bic 24
Born Bugar (WINNER)
IC
Jay Nazo
BEST NEW COMER (FEMALE) – (NCF)
Fabiola
Kabezya Nakazwe
Krazilian
Musama
Mwiza Zulu (WINNER)
BEST ARTIST – LUSAKA PROVINCE (LSP)
Bobby East (WINNER)
Chester
Ephraim
Jae Cash
Roberto
Tbwoy
NEW COMER (MALE) – (NCM)
Bow Chase
Clique Viral
Ezra Musonda
Gunduzani
King Illest
Nez Long (WINNER)
Young DizMo (Baby D)
BEST ARTIST – MUCHINGA PROVINCE (MUP)
Happy Kay (WINNER)
Kabila Malama
Sky P
Wiza
BEST INDIGENOUS SONG – (BIS)
Chester – Banjo (WINNER)
Moses Sakala – Chisomo
Zamar – Lengwe Lengwe
James Sakala – Nilandileni
Voice of Luapula – Walakotela Pang'anda
BEST ARTIST – NORTH WESTERN PROVINCE (NWP)
Hash Tag
Kasonde (WINNER)
Newlex
Slov
BEST ARTIST – NORTHERN PROVINCE (NTP)
King G2
Kiss B
Muzo AKA Alphonso (WINNER)
Royd Mwinsa (Roygeezy)
BEST DANCEHALL SONG -(DHS)
Badman Love – Dj Cosmo Ft Buffalo Soldier
Balepapafye – Damiano
Champion – General Ozzy
Don't Lead Me On – T-Sean/T-Bwoy (WINNER)
Fuss – Mic Burner
Sunkana – Davaos
BEST ARTIST – SOUTHERN PROVINCE (STP)
Allan Mapiki
Edma
King Illest (WINNER)
Mpande
Shyman
BEST HIP HOP SONG – (HHS)
Angels and Demons – Jay Rox
For a Long Time – Bobby East/ Slapdee (WINNER)
Psycho – Bobby East
Van Damme – Nez Long
Single for the Night – Chef 187
BEST ARTIST – WESTERN PROVINCE – (WTP)
Allanizo (WINNER)
Arube
Doc Mule
Y Coasty
BEST GOSPEL SONG (FEMALE) – (GSF)
Amazing Love – Lombe Chiti
Lengwe Lengwe – Zamar
Natotela – Martha
Ngoma Zilile – Mutale Ft. Pompi (WINNER)
Shing'anga – Racheal
BEST R&B SONG – (RBS)
Atishani – B'Flow
Because of You – T-low Ft Mumba Yachi (WINNER)
Tenga – Kaladoshas
Vitamin You – Roberto Ft Vanessa
Xoxo – Cleo Ice Queen
BEST GOSPEL SONG (MALE) -(GSM)
Ikila Uilange – Steve G
Lesa Emwali – Kings
Mulechita Ifipya – Ephraim
Neighbour – Mag 44
Pamakufi – Abel Chungu
Silence – Pompi (WINNER)
BEST MAINSTREAM – (MSS)
Kwasa – Roberto
My Past – Afunika
Nyula Yako – Mampi
Sekesha Umupashi – Vally Vally
Umutima Wandi – Macky 2 (WINNER)
Wikaleka Nkebe – Kaladoshas
BEST BAND – (BBD)
Air Power Band
Amayenge (WINNER)
Barotse Band
Crazy Fish
Elect Band
Uncle Rex and the Band
MOST CONSCIOUS SONG – (MCS)
4 pin – Petersen
Amai Kumunzi – Gunduzani
Insala Nefiko – General Ozzy
Nthawi – Wezi (WINNER)
What a Shame – Mwiza Zulu
BEST COLLABORATION – (BCO)
Bobby East Ft Slap Dee – For a Long Time
Ma Africa Ft Drimz – Chimwemwe Dance
Macky 2 Ft Ephraim & Njamba – Umutima Wandi
Nez Long Ft Bobby East & Chef 187 – Van Damme (WINNER)
Shenky Ft Dalitso – Dance Yama Bosele
T'Sean &T'Bwoy – Don't Lead Me On
BEST DUO/ GROUP – (BDG)
408 Empire
Clique Viral
Davaos
Ma Africa
Peace Preachers (WINNER)
Urban Hype
BEST FEMALE ARTIST – (BFM)
Bombshell
Chileshe Bwalya (WINNER)
Cleo Ice Queen
Mampi
Salma Sky
Wezi
Kantu
BEST CHOIR – (BCH)
Busokololo UCZ Chawama
Defense and Security Choir
Mount Sinai (WINNER)
Northmead Mega Choir
St. Ignatious Choir
BEST MALE ARTIST – (BMA)
Chef 187
Kaladoshas
Macky 2
Shenky
Slapdee (WINNER)
T-Sean
GOSPEL ALBUM OF THE YEAR – (GAY)
Become – Pompi (WINNER)
Christ Revealed – Racheal Nanyangwe
Ikila Wilange – Steve G
Lesa Emwali – Kings
Love Revolution – Abel Chungu Musuka
Mulechita Ifipya – Ephraim
ALBUM OF THE YEAR – (AOY)
Become – Pompi
Ghetto President – Macky2 (WINNER)
One Day – TSean & TBwoy
Spartacus – Petersen
Superstar – Roberto
SONG OF THE YEAR – (SOY)
Banjo – Chester
Dance Yama Bosele – Shenky
Don't Lead Me On – T-Sean/T-Bwoy
For A long Time – Bobby East/ Slap D (WINNER)
Ungaende Kumunzi – Rich Bizzy
Van Damme – Nez Long