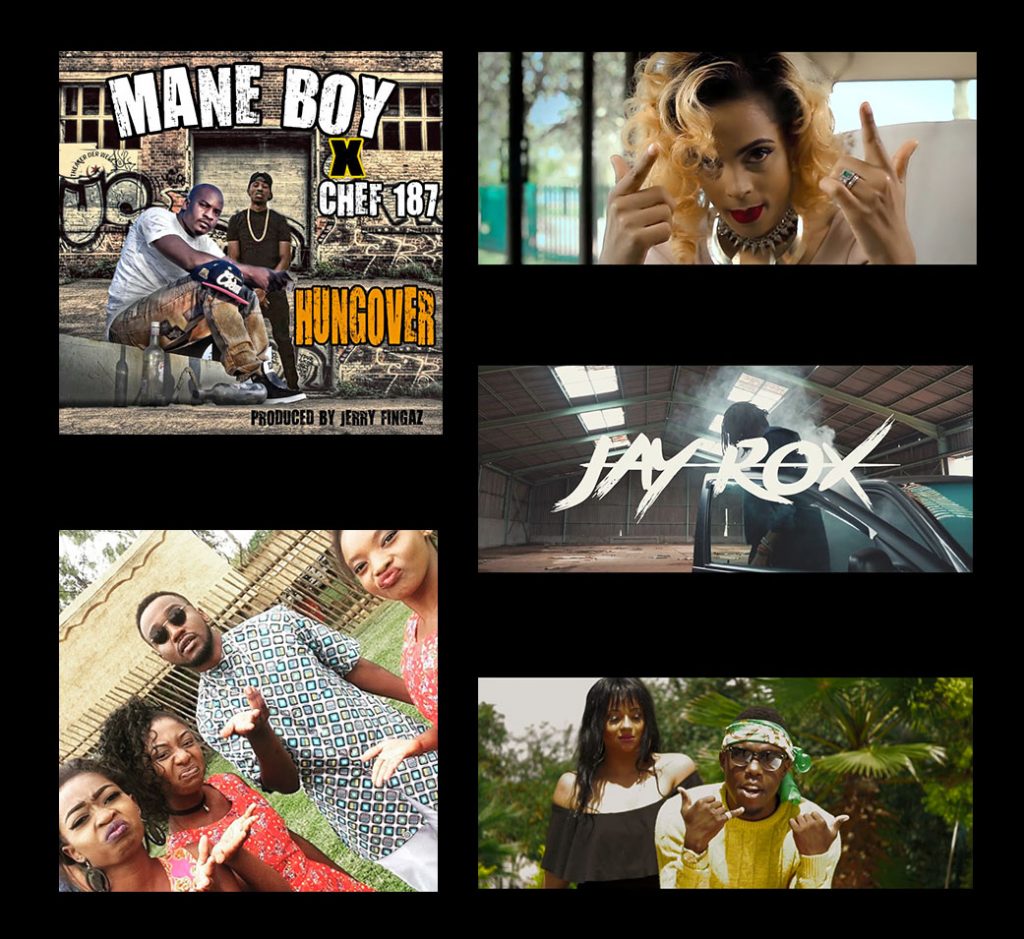 Zambian music videos have come a long way, from simple location shoots to amazing locations and the towers of great buildings around the world. With great videos released every month we here at Afrofire have compiled a list of some of the best videos of April.
Mane Boy Ft. Chef 187 – Hangover
This music video that was directed by S'mon G from Rattle Pictures is of the simplest form, shot in a farm village area that narrates a love story of the singer and the woman who gives him a 'Love Hangover'. It portrays that beautiful African vibe of crops, land and beautiful African people. It's a lovely video that leaves you smiling and happy.
Salma Sky Ft Kaakie & Adi Virgo – Zambezi
This beautiful video that was filmed on the banks of lake Kariba with a beautiful cinematic view, contains that Salma touch of water, luxury surroundings and a touch of freshness. It possesses the beautiful combination of Southern and Western Africa that all the musicians bring to the table. This video was directed by TiVo Shikapwasha and is definitely worth watching.
Jay Rox – Get Lost
There are two things we have come to expect from a Jay Rox music video and that is edginess and a car. This video that focuses on inspiring the youth to be confident and believe in themselves posses that true vibe that represents the youth of today. It's a captivating video directed by QBick and Lawdak from NXT solutions. This is one video you have to watch.
Dope G – Flowers
With a title like Flowers it's obvious one will have a number of flowers in the video; this romantic song that talks about love and appreciating loved ones while they are alive was shot by NXT solutions. It's a beautiful video that narrates a love story and has a beautiful wedding at the end of it. Dope G who is a romantic when it comes to music and celebrating women truly hit the nail on the head with this video. It's another amazing video worth your time.
Kaladoshas Ft. Urban Hype & Jay Rox – Mr. Romantic
With the spirit of love flowing around, here is our last video that includes the genius of five great artists. The video was shot by DJ Lo in Lusaka, Zambia. Like its title, it's a romantic and captivating video that will have your eyes glued to the screen.
With those as our Top 5 Videos, Which video do you feel is the best video for the month of April?
Choose Your Favourite
Mane Boy Ft. Chef 187 - Hangover (25%, 29 Votes)
Jay Rox - Get Lost (23%, 27 Votes)
Salma Sky Ft Kaakie & Adi Vergo - Zambezi (18%, 21 Votes)
Kaladoshas Ft. Urban Hype & Jay Rox - Mr. Romantic (18%, 21 Votes)
Dope G - Flowers (16%, 19 Votes)
Total Voters: 117

Loading ...