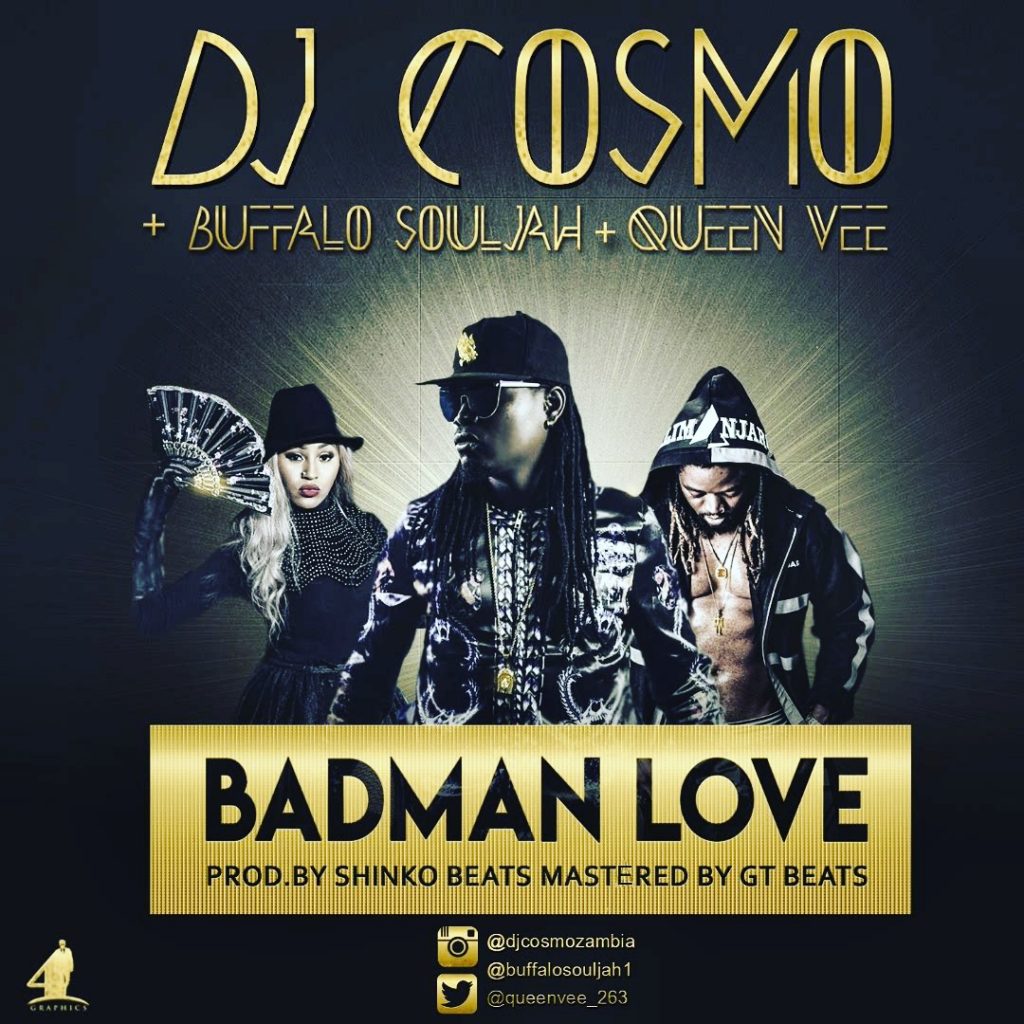 It's always a proud moment for Zambians when our artists take their work on an international level and this time is no different with Shinko Beats and DJ Cosmo working with international artists Buffalo Souljah and Queen Vee on the new track titled "Badman Love".
The track is a great Dancehall song that has an easy going vibe, a great combination of all the artists involved. It's soulful, the beats and instruments are the perfect blend to the song. The song itself is catchy, fun and sexy, something that one would easily enjoy. The song features on Buffalo Souljah's new EP – "Born Again".
Buffalo Souljah who is a South African based Dancehall and Reggae recording artist has been around since the mid 90s. He has worked with a combination of artists and won multiple awards. One of his most famous singles is "Bubble Ya Bums". He also owns a record label called United Nations of Africa (UNA). Queen Vee who is also based in South Africa but originally from Zimbabwe was the first artist signed to UNA, she has worked with artist such as L-Tido, Ziyon from Liquid Deep and AB Crazy among others.
Shinko Beats and DJ Cosmo have both dominated the music industry in the past few years with their constant success of releasing and working on great tracks. With the Redcastle Studio maestro – Shinko Beats working with Zambia's top artists such as Kaladoshas, Dope G, Jay Rox & Salma Sky and DJ Cosmo's work with other top artists such as Exile, Franciar and JK shows how talented and hard working these men are. Their work is of true artistry form and they continue to release great songs.
As for DJ Cosmo, "Badman Love" isn't the only track he has worked on with Buffalo Souljah, him and the artist have a track done that is tilted "Sexy Panty" a song that features on DJ Cosmo's new album "Thee Statement".
DJ Cosmo and Shinko Beats are two evidently hard working Zambian music figures and it's obvious that this isn't the end for them but the beginning of a great journey in taking their works on an international level.