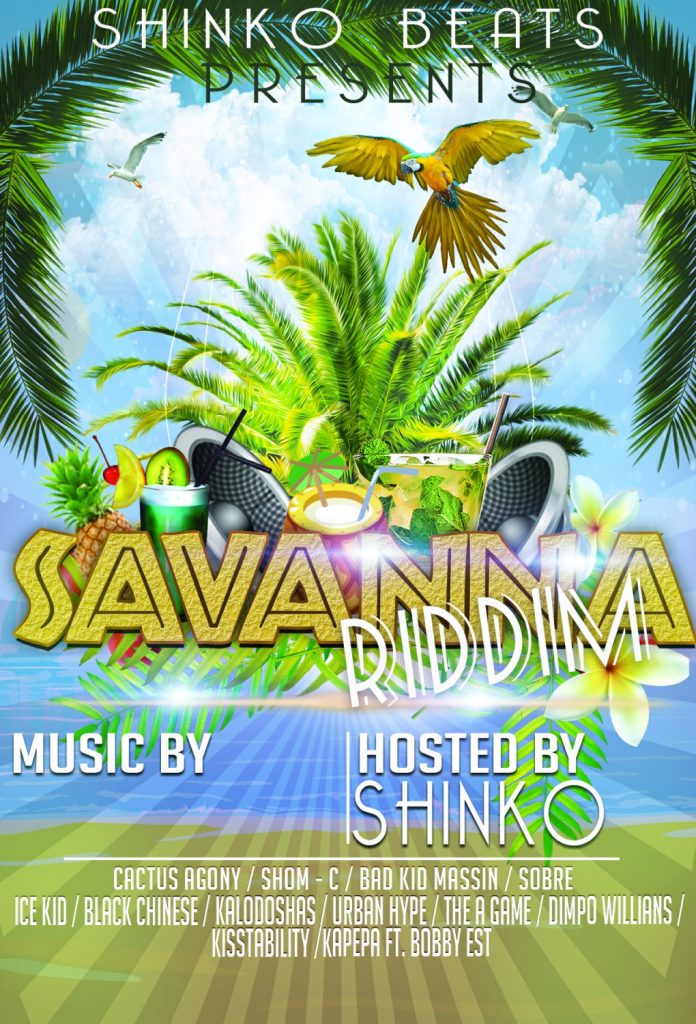 Shinko Beats is one of the finest producers in Zambia at the moment and through his great productions, he keeps proving that day by day. Shinko Beats surprises his fans with the free release of the much talked about Savanna Riddim.
On this Riddim, the Redcastle super producer provides a great lineup of artists sure to excite music lovers out there enlisting Cactus Agony, Shom C, Massin, Sobre, Ice Kid Lowkey, Black Chinese, Kaladoshas, Malz, Urban Hype, The A Game, Dimpo Williams, Kistability, Kapepa, Bobby East and Olanimas.
Download & Share the Savanna Riddim.
Shinko Beats – Savanna Riddim (Mashup)

1. Cactus Agony – Priorities Straight (Prod. Shinko Beats)
DOWNLOAD
2. Shom C – Wine and Go Down (Prod. Shinko Beats)
DOWNLOAD
3. A Game – Party Tonight (Prod. Shinko Beats)
DOWNLOAD
4. Sobre – Wealth (Prod. Shinko Beats)
DOWNLOAD
5. Kaladoshas – Dilaila (Prod. Shinko Beats)
DOWNLOAD
6. Malz Ft. Zanga – See Me (Prod. Shinko Beats)
DOWNLOAD
7. Ice Kid Lowkey – Highgrade (Prod. Shinko Beats)
DOWNLOAD
8. Kapepa Ft. Bobby East – Kukongola Sweetheart
DOWNLOAD
9. Black Chinese – Mukolomino Gigo (Prod. Shinko Beats)
DOWNLOAD
10. Dimpo Williams – My Hustle (Prod. Shinko Beats)
DOWNLOAD
11. Kistabillity – Oh Lord My God (Prod. Shinko Beats)
DOWNLOAD
12. Massin Ft. Paulpayne – Woman (Prod. Shinko Beats)
DOWNLOAD
13. Urban Hype – Player Cassanova (Prod. Shinko Beats)
DOWNLOAD
14. Olanimas Jackson Samson – I Dont Know (Prod. Shinko Beats)
DOWNLOAD
Download All Tracks in a Zipped File: |DOWNLOAD|